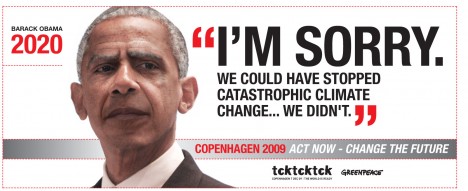 To us, Copenhagen felt like a failure in every way that mattered, the triumph of suicidal business-as-usual aboard a sinking ship. We asked some friends for their initial reactions:
Naoyuki Yamagishi, WWF Japan (Tokyo, Japan):
"I have to admit, this was the worst COP that I ever experienced. The outcome was nowhere near with what we hoped for, i.e. nowhere near securing the pathway to "below 2 degree C." In fact, it is hard to say there was an outcome because the so-called Copenhagen Accord was not adopted as "decision" but parties only "took note" of it because of the lack of consensus. After more than 100 Heads of State gathered, this was not something we expected for. The conference shut out civil society in the second week and we only had limited access to it. The whole process was not transparent either to Parties or NGOs, which I believed contributed to the the lack of a meaningful outcome.


However, we have no time to be "depressed" and to stop our efforts. Climate change is a matter of survival and giving up is simply not an option. And the UN process is the only legitimate process where we can build a multilateral framework to combat climate change. I'm worried that the result of this conference will affect our domestic discussion negatively and people might have doubts about its validity. Those forces which hate ambitious actions will exploit this. A year of hard work is waiting for us. But, then again, what did we expect? This is one of the most severe environmental challenges we could have. The difficulty to solve it naturally requires matched efforts. We will get our global agreement next year."
Tom Kelly, KyotoUSA (Berkeley, USA):
"COP 15 demonstrates, once again, the failure of humanity, especially those of us in the industrialized North, to fully comprehend the ramifications of continued inaction on climate change. We can spin Copenhagen anyway it pleases and soothes, but the very fact that we have again walked away without the resolve to act is another indication that we are willing to put the planet and all that inhabit it at risk.

Now is not the time for hope, now is the time for action! It starts with all of us and demands that we all act on behalf of the planet. If we can demonstrate this type of resolve, we will force the diplomats and politicians who continue to fiddle while the planet heats up, to muster the courage to act where they have now failed us."
Climate change program developer, Vietnamese environmental NGO (Hanoi, Vietnam):
"The outcome was deeply disappointing and many people are understandably angry that the world leaders let our planet down. The final days of COP15 saw an unprecedented number of world leaders gather to tackle one problem -- the planet's survival. That was an achievement in itself. However, some of them could have saved the trip as they did not go to cooperate, but rather, impose on others. The spirit of cooperation was lacking and it contributed to the failure to reach a FAB agreement. Some think that such an agreement was never going to be possible. We can only speculate about politics.

However, I firmly believe that youth and civil society were not foolish in advocating for a FAB [fair, ambitious, and binding] agreement. Especially at important points in history as now, it is imperative that the masses tell the politicians what is required of them and set the standard for them. Left to themselves, politicians would have different agendas. Civil society really did set the agenda, changed the mood within the Conference Center and mobilized millions around the world to speak up. And we need to continue to do so--to push leaders from where they are now, 2nd gear, into the top gear.

Viet Nam is in the top 5 most vulnerable countries to the impacts of climate change, so a FAB deal would have been ideal. However, with the current deal, a portion of the adaptation funds would not go astray. It is yet to be seen what the national government's approach is post-COP15. I know that my work in environmental education amongst young adults is pivotal in informing them of what is at stake and to promote proactive initiatives to build a stronger green movement."
Our friends seem to be realistic about recognizing the size of the setback, while being clear that we have to keep fighting. Our collective survival remains at stake, with the least responsible first to take the brunt of the impacts.