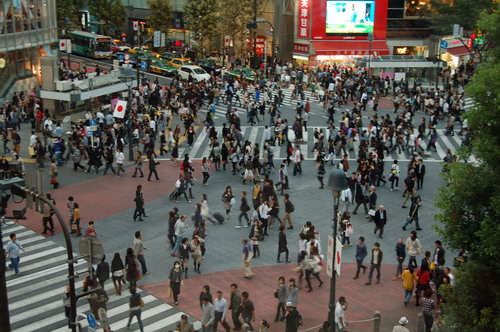 The streets of Tokyo were filled with many delights. The paths through the train stations were a geography we began to get familiar with, though the overall layout of the city remained mostly theoretical. We navigated stairs and escalators, following arrows, learning how to stay on the right (i.e. left) side of both. When we were let out into the streets we marveled at the rush of humanity. In Shibuya, we watched them from a third floor coffee shop, overlooking an intersection that brought in waves of people and took them out like a tide controlled by traffic lights. The colors were mostly black, even more pronounced in the light of the screens of moving color surrounding the intersection.
In Harajuku, we mistakenly walked wide tree-lined Omote-Sando instead of Takeshita-Dori, on the hunt for the fabled Harajuku crepe. We obviously didn't see any that day. When the green of the trees could no longer soothe our eyes from looking at brand after brand, we took a detour into the quiet back streets and wandered there until the sound of drums pulled us back to Omote-Sando. We watched silently as groups of people carrying colorful banners flowed in a lane that once had cars. The No Nukes Festa, seven thousand demonstrators strong, made its way along the street, as we stood on a pedestrian over-bridge looking down upon it. For hours we admired the elegant cloth banners that were only possible in a culture with a vertical script, feeling hopeful and delighted that we had stumbled upon a protest in a country not known for people "impolite" enough to shout on the streets.
Another night we walked hurriedly in Ginza to make it to a Kabuki performance, awed by the scale of the lights and the wide lanes. We returned on Sunday to see what Sunday Streets in Ginza felt like. The main road that runs along the Matsumaya department store was closed to traffic from noon to 5 pm. Umbrellas and tables were set up in the middle of the street. We stood observing as some people by the force of habit still crossed at the crosswalk. Others walking on the sidewalk would suddenly bound over planters when they realized that they could indeed walk in the middle of the street. A blind man crossed. We wondered if the sounds of this Pedestrian Heaven with its lack of traffic messed up his cues.
My favorite walking around was in Nakano, where we stayed for ten days. Narrow pedestrian streets held delightful restaurants, Japanese food galore punctuated by other cuisines. Noodle shops, curry, and yakitori abounded. The streets smelled of warm rice. As we walked deeper towards our house, the streets grew darker, while the vending machines glowed, their flickering lights letting us know that we were on the right path to home; the fact that almost all streets had a vending machine or two did nothing to dim our affection for the three we would see walking home. The only thing that stressed us out while we walked the streets was the lack of trash cans and the feeling of being judged whenever we ate on the street "American style," as we rushed between meetings and tourist sights.
But Tokyo does not define Japan. Our 14-day Japan Rail pass provided us access to the Shinkansen (bullet train), allowing us to experience a Japan beyond its biggest city. Our itinerary would include Kyoto and Nara--Japan's old capital cities, Hiroshima--a necessary pilgrimage for any devotee of peace, Beppu--Hell on earth but heaven for the body with its many hot spring resorts, and a visit to Hida-Takayama where the vernacular architecture of the Gassho-zukuri houses can still be experienced with the added attraction of fall colors thrown in.
Click for slideshow:
A month in Japan, in 20 photos
Of our walks in Kyoto, our most sublime memory is of being blissfully lost under the infinite orange gates of Fushimi Inari. We followed the trail through the woods for four kilometers, encountering serene lakes, candlelit shrines, and views of Kyoto. For me, this is what Kyoto was all about, and why ever since that first visit two years ago I was compelled to return.
Navigating the Hiroshima Peace Museum--its halls so big, the material so powerful, was a slow journey through time and memory. Reading memos that revealed the way Hiroshima was chosen for the bombing surprised and shocked my brain. Seeing the nails, skin, and clothes of victims broke my heart. This walk was hard.
In contrast, Beppu, an onsen Vegas, provided waters that soothed our souls and bodies, though the bright lights did not. Most rewarding were the hot spring waters and sands of Takegawara onsen. On the way back from Beppu's "hells" (volcanic ponds of colorful water), we walked a street that must have been Beppu's auto row, in search of a promised delight of an onsen. Though steam seeped out of pipes and chimneys all around us, the onsen was never found. But with a tip from friends, we found our own private outdoors onsen for two, just minutes from home.
By the time we reached Takayama and Shirakawa, fall had arrived. We accompanied masses of Japanese tourists for a visit to Shirakawa-go, a village in the Japanese alps and walked around in a living museum of Gassho houses. Back in Takayama, we wandered in the hills, discovering shrines and lusting after the reds, yellows, and oranges that I had wished so much to see my whole life. I could barely contain myself.
And then we returned to Tokyo, the contrast even more evident. We gasped in delight at being back in the ocean of life--walking with the people, feeling as if we had come home.
Related post: Anirvan, lost in the crowd at Shinjuku station

Related slideshows: Food and friends, Sunday Streets in Ginza

Next post: Our slow boat to China!